We help you build effective leadership and teams


Profile
---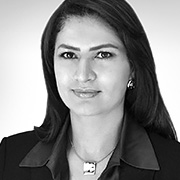 Zainab Alkhazraji
Associate Consultant
Zainab has extensive work experience in the MEA region with assignments in UAE, Oman, Qatar, Sudan and Egypt. Her business acumen, process minded approach and especially her understanding for the people and business culture in the region made her successful in building and developing effective Customer Services teams for Etisalat and Zain business units. Besides experience with the TMT industry she worked for retail and automotive enterprises in the region, such as AAB, Shanfary group, and directly reporting to senior leadership and CEOs.
Most recently she worked in a regional business development and consulting capacity for Neoris Consulting, a global consulting and digital business, helping clients to transform customer service through acquisition, business improvement, training and development and outsourcing.
Zainab brings her particular skills – putting together, coaching, and motivating high performing teams – to Metin Mitchell & Co to help our clients in finding executives to add value to their businesses.
In addition to her MBA from the University of Phoenix, Zainab has a number of leadership and management qualifications. She was the first radio presenter for classical music in the Middle East and is a volunteer through the UN helping orphans, elderly people and those with special needs.